Find yourself the best Video Converter, DVD Ripper, Flash Gallery Software, even Free Video Converter.
Wednesday, August 18, 2010
iPad is the latest innovative product developed by Apple which is similar to the older (and smaller) iPod Touch and iPhone. But the large (9.7-inch LED-backlit IPS display), high-resolution screen makes iPad absolutely perfect for watching any kind of video from HD movies and TV shows to podcasts and music videos including MPEG-4 (MP4, M4V), H.264, MOV, etc. We can get a lot of music and video content from iTunes store. The pain is, we have to pay for every song or movies we buy. Even today, getting video content is still a bit of a challenge. I guess you guys don't really wanna miss the opportunity to watch DVD and videos on iPad, which is essentially one big screen, do you? That's where this tutorial comes in: if you already have a bundle of DVD movies or videos, this step-by-step guide will show you how to rip DVD or convert videos to iPad with Aneesoft iPad bundle, and transfer them to the iPad for enjoying on-the-go.

Things you'll need
1. Cool iPad Tablet
2. Aneesoft DVD to iPad Converter and Aneesoft iPad Video Converter (Can download free trial version)
3. Favourite DVD movies or videos
4. iTunes 6 or later

Below is the step by step guide on how to convert DVD to iPad for Windows

Step1. Download and install Aneesoft DVD Ripping software
Download and install Aneesoft DVD to iPad converter to your PC. Then, just insert your favorite DVD on the DVD-ROM and load your DVD files to Aneesoft DVD to iPad converter through "Load DVD". Alternatively, you can hit "Load IFO" to import IFO files. In a minute, your DVD files will be listed at the main panel.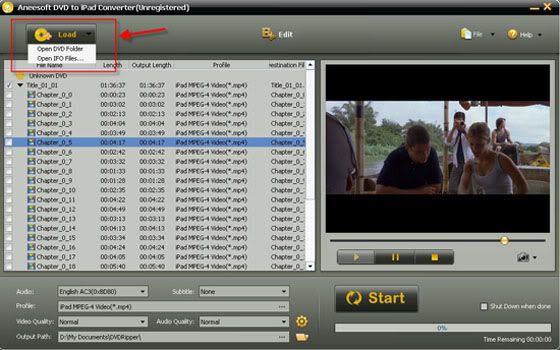 Step2. Edit your video file (optional): crop, trim, add effects, add watermark
Trim or Crop Video:
This Aneesoft DVD to iPad Converter allows you to trim or crop your video. So you can trim, capture your favorite video clips or crop videos to remove the black edges around your video with this DVD to iPad Converter. You can click the "Edit" button on the top to trim selected videos. If crops, then click "Crop" tab to open the Crop Video window, check the "Enable Crop" option box.

Set Effect:
If you want to adjust the video effect of your movie, you can click the "Effect" tab and then check "Enable Effect" option box. Drag each effect adjustment slider to set the video brightness and contrast. You can also choose a special effect from the Effect drop-down list to apply to your movie.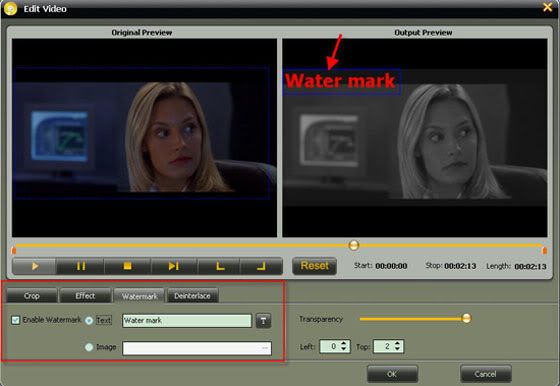 Step3. Output Setting
There are lots of preset iPad supported video format available for you to choose to convert for the iPad. You can choose MPEG-4 or H264 video according to your requirement. Here we set it as "iPad H.264(720p) MPEG4 Video(*.mp4)". You can also adjust other settings such as video quality, audio track, Bitrates, aspect ratio, brightness, contrast, saturation, etc.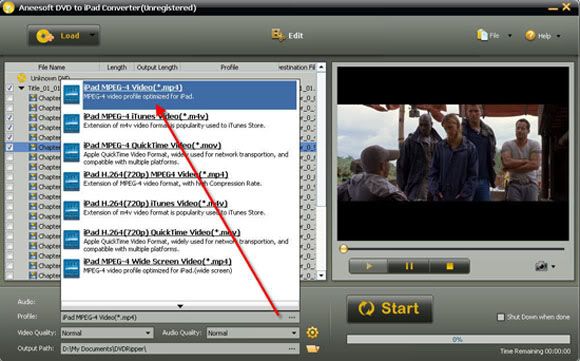 Step4. Convert DVD to iPad
When the settings are done, click the "Start" button to start conversion. And then the program will automatically start to convert DVD to iPad file. When the conversion is finished, you can click "Open" to locate the file in your hard drive. If you don't want to wait around during the conversion, the smart program can switch off the computer automatically when the conversion is done.

Part two How to convert video to iPad MP4 videos on Windows

Step1. Get Aneesoft iPad Video Conversion software and add video files
Download and install Aneesoft iPad Video Converter, click "Add..." to add video files, you may add as many videos as you want to convert.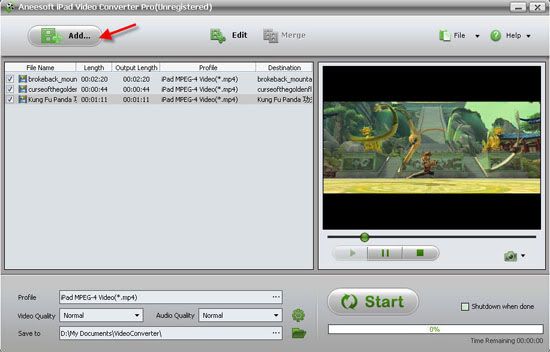 Step2. Change the output settings
In the output setting panel to set the needed output files formats, iPad H.264(720p) MPEG4 Video(*.mp4) is the popular output setting.

Step3. Start converting video to iPad video format
After all are done, click the "Start" button to begin Convert video files to iPad compatible video.

Transfer/sync ripped DVDs or videos to iPad.
When you finished ripping DVD or converting video to iPad H.264(720p) MPEG4 Vide, connect your computer to iPad with its 30-pin connector and sync your iTunes library. Here you go, just enjoy high quality videos on your iPad.

iPad Supported Video and Audio Formats
Video/Movie Formats:
* H.264 video (up to 720p, 30 frames per second; main profile level 3.1 with AAC-LC audio up to 160 Kbps, 48kHz, stereo audio in .m4v, .mp4, and .mov file formats).
* MPEG-4 video (up to 2.5 Mbps, 640 by 480 pixels, 30 frames per second, simple profile with AAC-LC audio up to 160 Kbps, 48kHz, stereo audio in .m4v, .mp4, and .mov file formats).

Music & Audio Formats:
* AAC (16 to 320 Kbps), protected AAC (from iTunes Store), MP3 (16 to 320 Kbps), MP3 VBR, Audible (formats 2, 3, and 4), Apple Lossless, AIFF, WAV.

Posted by

zaraly
at 6:42 PM